Scientific Program
The conference will be organized into 15 plenary lectures (45 min. each), delivered by a series of internationally recognized speakers from academia and industry, 25 short talks (20 min., selected by the scientific committee), 36 flash talks (about 8 mins, selected by the scientific committee) and two poster sessions with prizes for the best posters and flash talks.

The poster sessions will be divided into three distinct categories; Synthetic Methodology, Catalysis, total or target based synthesis. The scientific committee will select the best posters from each category, and a prize will be awarded to the first author.

For those presenting posters, they will be expected to present them over the two poster session periods, one will be expected to place their poster in their attributed space by lunch-time on the 5th of September and remove them by the end of the conference

Both Wiley-VCH Verlag GmbH & Co. KGaA – A company of John Wiley & Sons, Inc, and Molecules have very kindly agreed to award a textbook (Catalytic Asymmetric Methods: From the Academic Lab to Industrial Processes, Burke and Marques) and a feature paper slot as the prizes for the best flash presentations. Catalysts, Thieme (SynFacts) and Organic & Biomolecular Chemistry (RSC) have kindly agreed to award prizes for the best poster presentations in the different categories.
---
Key areas
The conference will focus on the following key areas:
Total synthesis
Synthesis in Medicinal chemistry and chemical biology
New reagents, catalysts, strategies and concepts for organic synthesis
Biocatalysis in synthesis
Organocatalysis
Flow-chemistry approaches to the synthesis of key targets
Applications of organometallic compounds in synthesis and catalysis
Stereoselective synthesis
Synthesis and property of functional molecules and organic materials
Sustainable and Green synthetic and catalytic methods
Process development of key pharmaceutical targets
Computational tools for synthesis and catalysis
Polymer synthesis
Conference Time Schedule
International Symposium on Synthesis and Catalysis 2017 (ISySyCAT2017)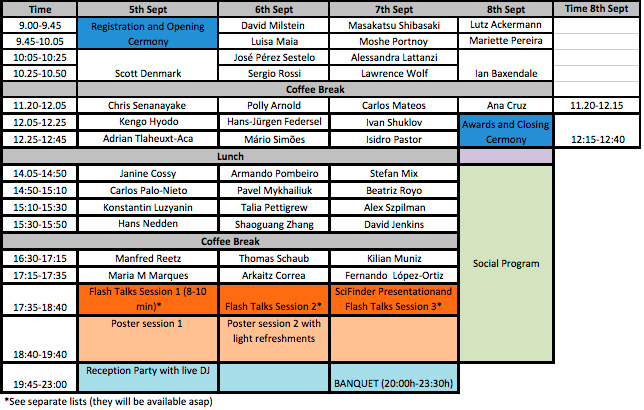 Plenary Speakers
Prof. Armando Pombeiro "Functionalization of Alkanes: a challenge in catalysis towards organic synthesis",
IST, Portugal
---
Prof. Janine Cossy
"Transition metal catalysis: construction and functionalization of (hetero)cycles"
,
ESPCI ParisTech, France
---
Prof. Scott Denmark
"Transmetalation in the Suzuki-Miyaura Cross-Coupling Reaction: Mechanistic Insights and Preparative Implications"
,
University of Illinois, USA
---
Dr. Stefan Mix
"Shortening the Path – Biocatalysis Applications in the Pharmaceutical Industry"
,
Almac, UK
---
Prof. Kilian Muñiz
"C-H Amination within the Halide Redox Manifold"
| SYNTHESIS (Thieme) Best Paper Award Lecture ,
ICIQ, Spain
---
Dr. Chris Senanayake
"Important Asymmetric and Catalytic Transformations for Drug Development"
,
Boehringer Ingelheim, USA
---
Prof. Lutz Ackermann
"Selectivity Control in C-H Activation"
,
Georg-August-Universität Göttingen, Germany
---
Prof. Ian Baxendale
"Flow Processes for the Synthesis of 'Challenging' Molecules"
,
University of Durham, UK
---
Dr. Thomas Schaub
"CaRLa – Basic Research for Industrial Applications of Homogeneous Catalysis"
,
CARLA, Germany
---
Dr. Ana Cruz, Hovione
"Palladium coupling reaction optimization as part of the development of an API synthesis"
,
Portugal
---
Prof. Masakatsu Shibasaki
"Recent Progress in Cooperative Asymmetric Catalysis"
,
University of Tokoyo, Japan
---
Prof. David Milstein
"Design and Applications of Sustainable Metal-Catalyzed Reactions"
,
Weismann Institute, Israel
---
Prof. Manfred Reetz
"Directed Evolution of Stereoselective Enzymes: A Prolific Source of Catalysts for Asymmetric Reactions"
,
Max-Planck-Institut für Kohlenforschung, Germany
---
Dr. Carlos Mateos
"Continuous flow chemistry: A powerful tool to enable chemistries and scale-up processes"
,
Eli Lilly, Spain
---
Prof. Polly Arnold
"Exploitation of subtle hydrocarbon interactions in organo-f-block small molecule activation"
,
Universidade de Edinburgh, UK
---
Select Speakers
Alkyne and Alkene Functionalization by Visible-Light-Mediated Photoredox Catalysis
Adrian Tlahuext-Aca Westfälische Wilhelms-Universität, Germany
Organocatalysed Asymmetric Synthesis of Sulfur-Containing Heterocycles: from Tetrahydrothiophenes to 1,5-Benzothiazepines
Alessandra Lattanzi Università di Salerno, Italy
Catalytic processes that are suitable for the large scale reduction of aldehydes and ketones
Hans Günter Nedden Johnson Matthey Catalysis and Chiral Technologies, UK
Bio- and chemo-catalysis in the chemistry of lactic acid and PLLA
Ivan Shuklov Rostock, Germany
Enzyme immobilization as the enabler for biocatalysis in flow
Hans-Jürgen Federsel EnginZyme AB, Sweden
Catalysed Stereoselective Synthesis of Deoxyglycosides
Carlos Palo-Nieto University of Bristol, UK
Pd-Catalyzed C-H Functionalization Events Directed by 1,2,3-Triazoles
Arkaitz Correa University of the Basque Country, Spain
Powerful New Umpolung C-C and C-N Bond Forming Reactions via Enolonium Species
Alex M. Szpilman Ariel University, Israel
Syntheses and Structures of Bimetallic Complexes Supported by Flexible Di(imino)pyridine-based Macrocycles
Shaoguang Zhang University of Pennsylvania, USA
Sustainable Catalytic Systems based on Acyl-Functionalized Imidazoles
Isidro M. Pastor University of Alicante, Spain
Bio-inspired Catalysts for Activation of Small Molecules
Mariette M. Pereira University of Coimbra, Portugal
OrthogonalSubstrate-Selective C-H Functionalisation of Organosulphur Compounds Originating from Crude Oil.
Konstantin V. LuzyaninUniversity of Liverpool, UK
Reduction of Carbon Dioxide by Formate Dehydrogenase: Aiming to Develop a Catalyst for Carbon Dioxide Utilization
Luisa Maia Universidade Nova de Lisboa, Portugal
A Metal-Catalyzed Journey To New Azaindole Synthesis
M. Manuel B. Marques Universidade Nova de Lisboa, Portugal
Synthesis of next generation catalysts for C2 + N1 aziridinations from organic azides and alkenes
David. M. Jenkins University of Tennessee, USA
Catalytic Reductions with Manganese N-Heterocyclic Carbenes
Beatriz Royo ITQB, Portugal.
Continuous-flow stereoselective catalytic synthesis of Active pharmaceutical Ingredients in micro- and (3D-printed) meso-reactors
Sergio Rossi Università degli Studi di Milano, Italy
Brønsted Acid Catalyzed Nitrile Synthesis from Aldehydes via Transoximation under Mild Conditions
Kengo HyodoRyukoku University, Japan
Origin of Lewis Acid Induced endo/exo Selectivity Enhancement in the Diels-Alder Reaction: Reduced Steric Penalty for endo
Lawrence M Wolf University of Massachusetts Lowell, Lowell, Massachusetts 01854, USA
Indium(III)-Catalyzed Intramolecular Cycloisomerization Reactions of Alkynes: Synthesis of 2H-Chromenes, Benzo[b]furans and Derivatives
José Pérez Sestelo Universidade da Coruña, Spain
Use of Branched and Dendritic Scaffolds for Controlling Selectivity in Organocatalysis
Moshe PortnoyTel Aviv University, Israel
Designed Aplyronine Warheads for Next-Generation Antibody−Drug Conjugates
Talia Pettigrew University of Cambridge, UK
In situ generation of Gold(I) Nanoparticles as Catalyst of Solventless A3 Coupling Synthesis of Propargylamines
Fernando López-Ortiz University of Almería, Spain
The influence of the porphyrins' macrocycle and its metal on the type, efficiency and selectivity of catalysis
Mário M.Q. Simões University of Aveiro, Portugal
Rapid access to novel multifunctional spirocyclic cores for drug discovery
P. K. Mykhailiuk Enamine Ltd, Ukarine

Flash Talsk Speakers